Protecting your brand online has become more and more difficult and competitors are starting to play dirty.  Some are even hiring outside companies to tarnish your brand and submit fake negative reviews. The frequency of "gripe sites" using domain names similar to yours to plant the seeds of doubt with your customers are also on the rise. When someone searches for your business name in Google the last thing you want showing up in the search results are bad reviews and these "gripe" sites.
You can be proactive by taking advantage of all the Social Media sites out there. For example we have created a SlickRockWeb Twitter account, Facebook account, ,Linkedin account, YouTube account, Angieslist and on and on. All of these sites, because of their inherent domain authority, will typically move up the rankings in Google in a matter of months after you have created them. Just make sure you use your branded business name in the main title of the accounts or better yet make it your login and/or alias. By doing this you will eventually control at least 10 different accounts and hopefully all of them will be in the top results for a Google search of your business name.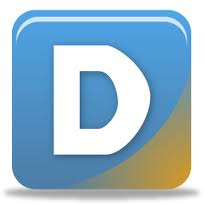 We have just created a another new profile for SlickRockWeb at Disqus. Disqus is a very nice service that allow you to use a single login to register across multiple sites for forums, news and blog sites and be able to quickly provide comments and discussions about the relevant articles using only a single login account. On top of that it creates a public profile for your account and the opportunity to briefly describe your company and provide another backlink to your homepage. Another free account that you control.
Below is a screenshot showing a number of social media profiles for SlickRockWeb Inc. What is important is that all of these profiles are controlled by us and thus we dominate all 10 spots on the first page of Google results.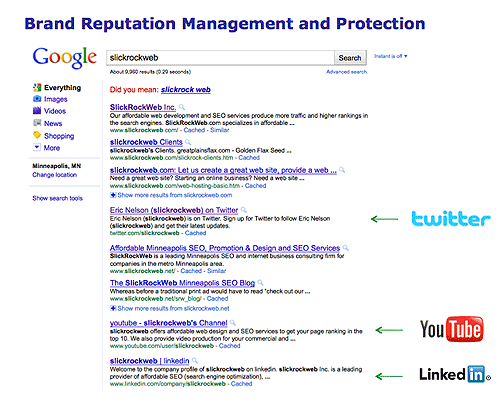 Of course if you don't have the time or inclination to put this strategy in place you can always call us. For more information about our proven SEO strategies call us at 1-800-975-5695.
Kind regards,
SlickRockWeb Inc. a leading provider of affordable SEO services - "Bringing you business one click at a time."